Undeniably, women were in the forefront of the 2012 Presidential election. From birth control access to legitimate rape to equal pay, women's rights were debated and insulted countless times. But, perhaps the most unbelievable, yet telling, gaffe was Mitt Romney's response to a question about equal pay. When boasting about his work as governor of Massachusetts, Romney wanted to hire more female workers: "I went to a number of women's groups and said, 'Can you help us find folks?' and they brought us whole binders full of women" (Bassett). This statement was not an isolated anomaly; rather, Mitt Romney was merely responding as any trained capitalist would to his situation. In order to present the semblance of equal rights, Romney chose to hire women to fulfill a certain allotment—in short, a quota. Since the women's liberation movements of the 1960s and 1970s, women have fought for the right to equal work and equal pay; forty years later, women still only make seventy-seven cents for every dollar that men make ("Pay Equity and Descrimination"). Capitalist moguls, like Romney, venerate the idea of hiring women—women need jobs and they are cheaper. However, the goal of the women's liberation movement was not to take the jobs men would work, but for lower wages. Equal pay for equal work is a mantra that has long existed in the political discourse. The women's liberation movement's goals were exploited for capitalist gains and for patriarchal oppression in the domestic sphere—causing female labor to be dually exploited.
Just a Girl in the World:
Global Capitalist Patriarchy and "Forced Production"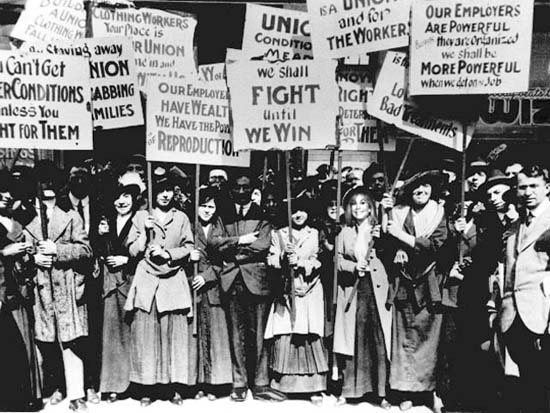 http://historymatters.gmu.edu/images/strike.jpg
            Prior to the women's liberation movement, women, largely, did not hold jobs in capitalist industries; typically, women cared for the family or worked as teachers, secretaries, or nurses—so-called "women's work." The rise of global capitalism coincided with the rise of women in the workforce. In 1973, Paul Craven and Barry Wellman co-wrote an academic exploration of the beginnings of globalization while attending the University of Toronto. The rise of global communication was not yet a large idea in public discourse, but they coined the idea that communities spread further than physical boundaries defined by public space. They assert:  "Note that we have been careful not to define communities in spatial terms, as areas whose boundaries can be drawn on a map. In considering a community, we can just as easily be talking about a dense, bounded network of enthusiastic stamp collectors as of one of fellow residents in a particular locality" (Craven 76). Coincidentally (or, perhaps, not), the rise of the networked society and globalization began around the same time that women established themselves in the workforce. 
            With industry booming and a new flood of workers in the labor pool, companies saw new potential for profits. Rather than manufacturing goods in the United States, where labor and resources were more expensive, companies began offshoring manufacturing jobs, especially in information technology, in order to offset the costs. According to a United States government report on offshoring, the practice of shipping jobs overseas began as early as the 1960s—the same time as the beginnings of the women's liberation movement (United States). Information and service jobs replaced the former factory jobs that dominated the United States workforce. Theorist Daniel Bell argues that that this type of economy is a post-industrial society. Bell's theory remarks, "information work is mostly white-collar employment that, since it involves dealing with people rather than with things, brings promise of greater job satisfaction than hitherto" (Webster 42). Now that the majority of new jobs were not dangerous, dirty, factory jobs, women were, generally, more inclined to leave the home to seek employment with these large companies with the promise of a white collar job in the service sector of the job market.
            Or, perhaps this shift in work conditions was part of a capitalist scheme to hire cheaper workers. Feminist theorist and women's rights activist Monique Wittig argues that capitalism is a patriarchal construct, which she posits is a system that thrives off of dominance from the top down—just as she asserts that relationships between men and women function. In her essay, "On ne Naît pas une Femme" ("One is not Born a Woman"), Wittig briefly explores the idea of "forced production," which is how she views the woman's role of reproduction in heterosexual relationships. She argues, "instead of seeing giving birth as a forced production, we see is as a 'natural' process, forgetting that in our societies that births are planned, forgetting that we ourselves are programmed to produce children" (Wittig 129).  The ties between her ideas of capitalism and heterosexual reproduction are eerily similar. Queer theorist Bradley Epps expands on this connection: "For Wittig, of course, capitalism is on a par with patriarchy and heterosexuality, as production is with reproduction, and the concrete subject, fragmented still, remains that by which another social order, more equitable, just, and yes, pleasurable might ever so fugitively be glimpsed" (Epps 428). Both the relationship between a worker and a company and a man and a woman involve a contract of (re)production. The capitalist expects his workers to produce "things" (manufacture goods), while the man expects the woman to produce children—a contract that is dictated by the patriarchal power.
If, indeed, the capitalist system is a patriarchal system, one could argue that offshoring is "forced production" on less powerful countries with weaker economies. Take, for example, the United States' current relationship with China. The United States' corporations demand that certain goods be manufactured for a low price in order to sell these goods to consumers for high profit in the United States. This cannot be accomplished domestically because of high material and labor costs, exacerbated by the high cost and standard of living. China, however, does not have the same high wages, and their local access to natural resources, such as precious metals, for manufacturing is paramount. In this metaphoric relationship, the United States is the male and China is the female. Corporations in the United States cannot produce domestically because the high cost makes this production near impossible; Wittig would call a non-productive relationship such as this homosexual. Therefore, in order for production to be feasible, the capitalist corporations must exert their patriarchal ideals by enforcing a dominant relationship on a weaker entity—the female—in this case, China.
Man, I feel Like a Woman:
While capitalist enterprises have profited from exploiting, and feminizing, less developed countries' labor, the same practice currently occurs domestically. In her article, "The Feminization of Labour in Cognitive Capitalism," Christina Morini connects globalization and feminization of labor, through Saskia Sassen, an Italian globalization expert:
"Saskia Sassen postulates the idea of 'the existence of a systemic relationship between the globalization and feminization of paid work,' in the sense that 'the productive structures that cannot be transferred offshore and must operate where demand exists, can use a female workforce, whereas the structures which lend themselves to being  transferred abroad can use lower-paid workforces in less developed countries." (Morini 41)
When the work is unable to be shipped offshore, companies elect to hire cheaper labor domestically in order to cut costs. Generally speaking, this cheaper labor is from an oppressed class—such as women or minorities.
This brings the conversation back to Mitt Romney's comment on "binders full of women." Why would Romney, a conservative capitalist with conservative gender role values, choose to seek out women to hire? Surely, one could argue that he wanted to fulfill some diversity quota, but his likely motives go much deeper. According to The Huffington Post, Bain Capital is a privately traded company and is not required to disclose the salaries of any board members. However, during the time that Romney was running Bain Capital, "all 95 vice presidents of the firm were white, and only nine were women" (Wilkie). Unfortunately, Romney's female-oppressive business enterprises do not end at his Bain Capital board. He still currently owns large shares of Bain Capital, and most notably, he "owns about $8 million worth of Bain funds that holds 51 percent of Sensata's shares" ("Bain Capital"). Sensata is a Bain Capital owned sensor and control technologies factory with four locations throughout China. These four factories notoriously work the employees twelve hours a day, seven days a week, for wages equivalent to about $0.99-$1.35 per hour. Of the approximately 3,000 employees at these factories, over 95% are women. The female employees "believe that management prefers to hire females because they are thought to be easier to control" ("Bain Capital"). Arguably, since Romney has such a large sum of money invested in these factories, it is of his best interest to keep labor costs as low as possible. He does this by hiring women, who are more likely to comply with the oppressive and demanding workload, dictated by American male management. This large-scale employment of only females is not an isolated representation. In fact, employment of women in America has also been showing some interesting trends.
            The current economic recession has caused the highest unemployment rates since the great depression. According to the National Women's Law Center, in June 2009, the peak of the worst economic times, the unemployment rate for women was 7.6%; the unemployment rate for men, however, was 9.9% ("Stronger Recovery Reaching Women").  Since, on average, employers pay women only seventy seven percent of what they pay men across all sectors, this statistic is not surprising. Women were more likely to hold onto their jobs during the recession simply because their jobs did not cost as much to keep.
            While this may seem like good news for women in the workforce, it is not. Realistically, the low wages and (comparatively) low unemployment rates are further evidence that female labor is being exploited for capitalist gains. Morini extrapolates this idea: "Capitalism has aimed, in general terms, to appropriate for itself polyvalence, multi-activity, and the quality of female labor, exploiting thereby the experience brought by women which stems from their historic function in the realm of reproduction and domestic work" (Morini 42). The role of a woman as the submissive domestic servant has crossed the line into the workplace, where women are now expected to submit to the dominant, patriarchal capitalist employers.
            Many may argue that there are plenty of female exceptions to this wage gap and that many CEOs are women. However, upon examining the Forbes "400 Richest Americans" list, the true gender gap is quite apparent. In a world where money is power, women simply just do not have power. Among the top twenty richest people on the Forbes list, only three are women—and all three are heiresses to either the Wal-Mart or Mars Candy fortunes. Yes—none of the women on the top twenty earned their fortunes in the traditional sense. If the list is examined further, only thirteen of the top one hundred richest people are women. According to the Institute for Women's Policy Research, "Women are almost half of the workforce. They are the equal, if not main, breadwinner in four out of ten families" ("Pay and Equity Discrimination"). If women were paid equal pay for equal work, as most companies claim that women are, then the Forbes list should be split fairly equally between the genders. However, a mere thirteen percent of the one hundred richest Americans are women. Perhaps the most disheartening fact in this statistic is that none of the thirteen women in the Forbes top one hundred have self-made wealth; they are all heiresses to fortunes earned by their late husbands or fathers.
            Despite any façade that corporations may attempt to erect in order to present a semblance of equality, women are still treated as inferior fixtures in the workforce. While women have taken tremendous strides to close the gender gap since the women's liberation movement, the predominant and obvious inadequacy of compensation, despite gender, still dominates the (feminist) political discourse.  Perhaps most disheartening, however, is the domestic patriarchal oppression that still exists, despite any and all advancements that women have made in the workforce.


Run the World, Girls:
Working in (and out) of the Home
http://static03.mediaite.com/thejanedough/uploads/gallery/multitasking-2/multitasking-1.jpeg
            Despite any gains that women have made in the employment sector, traditional gender roles are still rampant in the domestic sphere. Even in current times, women are still expected to do the bulk of the housework—cooking, cleaning, and tending to children. While seventy two percent of women hold full-time jobs outside of the home, their expected housework has, largely, remained unchanged in modern times.
            In the case study, "Working Hard and Hardly Working: Domestic Labor and Marital Satisfaction among Dual-Earner Couples" in The Journal of Marriage and Family, household gender roles were examined in a variety of relationships. In the majority of cases, men did significantly less work in the home than women. The study states:
"Both men who earn more than their partners and men who earn less tend to do less household labor but for different reasons. If men earn more than their partners, they view their responsibility as 'breadwinner' as compensating for doing housework. It is argued that men who earn less than their partners eschew housework to protect and assert their threatened masculinity. If partners' incomes are roughly equal, men tend to contribute proportionately more to housework, but not much more than their male counterparts who earn substantially more or less than their partners." (Stevens 515)
This study demonstrates that the gender divide—as well as prescribed, sexist gender roles—are still at work in the domestic sphere, despite any gains in the public sphere. Unfortunately, this shows very little change from the time that Wittig wrote "The Category of Sex," which was first published in Feminist Issues in 1982. She stated: "it is the fate of women to perform three-quarters of the work of society (in the public as well as in the private domain), plus the bodily work of reproduction according to a pre-established rate" (Wittig 124). While men and women seem to split the household work slightly more than they did prior to the feminist movement, the split is far from the near equal representation of genders that can be seen in the workplace.
            In addition to the responsibility of maintaining the home, women also have the cultural expectation to reproduce and raise children. In the capitalist mindset, reproduction is paramount to the success of the economy. Women are expected to produce children because women are the exploited laborers in the capitalist economy—in two ways. First, as established earlier, women work the lower-paying jobs that men do not. The other is by producing children, who are future workers. Societal expectations proliferate the capitalist ideal that women must reproduce in order to increase the existing labor pool.
 However, since seventy-two percent of women work outside of the home, nannies are an increasingly popular option for working families. This, in turn, outsources the domestic labor to an outside worker—often, another woman from a Third World country. Morini sees this outsourcing as problematic:
"If women in the First World make a career for themselves and devote a great deal of time to demanding professions, their nannies and helpers, who arrive as a result of the increasing demand for help at home which has become a veritable industry, are experiencing similar but far bigger situation. That two women work to earn money is perhaps a lovely idea, but that two working mothers devote themselves entirely to work is a lovely idea, which has gone too far. When all is said and done, women from both the First World and the Third World are pawns in a far wider-reaching economic game for which they didn't write the rules" (Morini 41).
This economic game is global, capitalist patriarchy, which has spread to the far corners of the earth, forcing women of both First and Third world countries to surrender their labor to capitalism in order to survive. Wittig argues that this exploitation has caused a rift in the goals of the feminist movement. She argues: "This means that the 'masses' did not fight for themselves, but for the party or its organizations" (Wittig 133), meaning that women did not fight for their rights, but were rather fighting for the capitalist enterprise which has, in turn, exploited their labor.